Client Stories & Reviews
The following testimonials are neither solicited nor paid for in any way. They are the honest videos of satisfied customers stating their own personal opinions on our products. Watch these short video testimonials to discover how, in a very short time, your dog can enjoy running and chasing again using our joint supplement for dogs ChondroPaw®.
Disclaimer: Individual results may vary
Mateo
This is one of the most serious cases of dog arthritis. This 13 year old dog struggles to walk and needs to drag his legs to move! It is so heartbreaking to see him suffer this way. As a last resort he was put on Chondropaw and his improvement has been amazing! See for yourself! ChondroPaw works even in these extreme arthritis and joint pain conditions!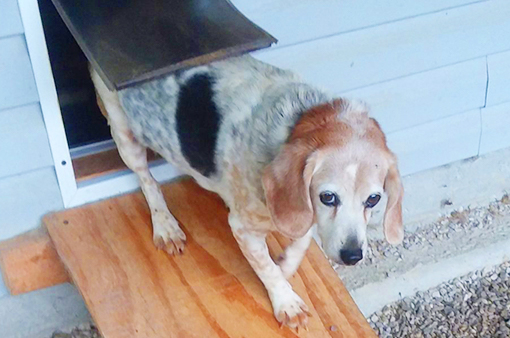 Grace
My Grace, a 16-year-old beagle, was going to be put to sleep two weeks ago because she couldn't get up to eat her supper. She has been a chow hound all her life and it was sad to see. She is in heart failure so I called my vet and he suggested that I give her small doses of aspirin and that helped so I had found your site and decided to give her a chance to feel better. When I received the product and am thrilled to tell you she's not only getting up to eat but she's going out to see what is going on and now barks again like a real dog. Thank you so much for helping my Gracie enjoy whatever time she has left… 🙂
Honey
Honey, a senior Labrador with arthritis recovers using ChondroPaw. Before, this 11 year old Labrador struggled to get up and walk. After only 3 months on ChondroPaw she started running! Watch her before and after video.
Remington
Remington struggled with steps, having to jump just to get up. He couldn't even climb the lowest step. Now, see him running in the snow after trying ChondroPaw for 1 month!
Steele
This collie named Steele once suffered from joint problems in his back legs. It was so bad that it he struggled to get up, sit, or lay down. Steele's owner has been giving him Chondropaw and recording his improvement. After just 3 doses of ChondroPaw, he reports Steele shows less effort to get up.
Cindy
Cindy limped and used to show difficulty to walk due to pain caused by inflammation of the shoulder-joint ligaments and muscles. After 4 weeks taking ChondroPaw, she now runs faster than her friends!
Mailee
This 10 year old Labrador suffered from hip dysplasia and mobility issues. She had difficulties getting up and walking, usually prefering to stay home and lay down. See her improvement after 1 month of being on ChondroPaw.
More Amazing Before-and-After Dog Recovery Videos